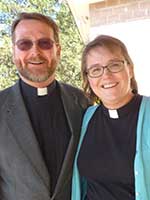 Pastor Janine & Pastor Matt Goodrich
Janine and Matt have served as the pastors of American Lutheran Church since 2005.  They consider themselves blessed to share ministry with this congregation living out God's love in our community.
Janine and Matt both grew up in Minnesota, and they met while finishing graduate school at Luther Seminary in St. Paul, MN.  They have two daughters, Kari and Lia, who are their joy and delight.